Why Snorkel in Beautiful Manly?
There are many answer to this questions.  I'm going to tell you why you should snorkel in beautiful Manly.
Manly is surrounded by water and has many locations to snorkel. This means depending on the wind and swell conditions you can find someone on the ocean side or Sydney Harbour side.
The snorkelling locations are directly off the beach, so access is easy if you know what to be careful off. Snorkelling is safe and easy but remember if you not familar with a area best to go with someone who knows the locations. Especially is you are on the ocean side. Sting rays hurt.
Snorkel in Beautiful Manly with your your whole family. Suitable for all ages and only require moderate fitness.
The beauty of Manly's underwater world changes through the season of the sea, with ocean currents and ocean temperatures. Depending on the time if year there is always something amazing to see.
The Cabbage Tree Aquatic Reserve and Sydney Harbour health and bio diversity gets better every year. Always exciting.
Underwater adventure gets you away from devices so you can re connect with nature and disconnect from technology.
You can have your taste of nature and fitness and snorkel then hit the cafe's and eateries and get your holiday vibe on.
Enjoy a snorkel and then walk the coastal trail or many walks in to the Sydney Harbour National park.
Snorkel then surf lesson at Manly surf school combo for full Manly adventure experience.
When the sun is shining it is happy days, everyone is all having a great time enjoy the energy from the sun. Great vibes all around. Smiles from everyone makes you happy.
When it is raining and sad, there is no one around. Only the true adventure warriors get out there. You could have the place to yourself with just you and the wildlife. Your going to be wet anyway. Snorkel in beautiful manly in all weather conditions and with different light the colours of the natural world change.
I could go on but I will leave it at 11 point of why you should snorkel in beautiful Manly.
Snorkel in Beautiful Manly Gallery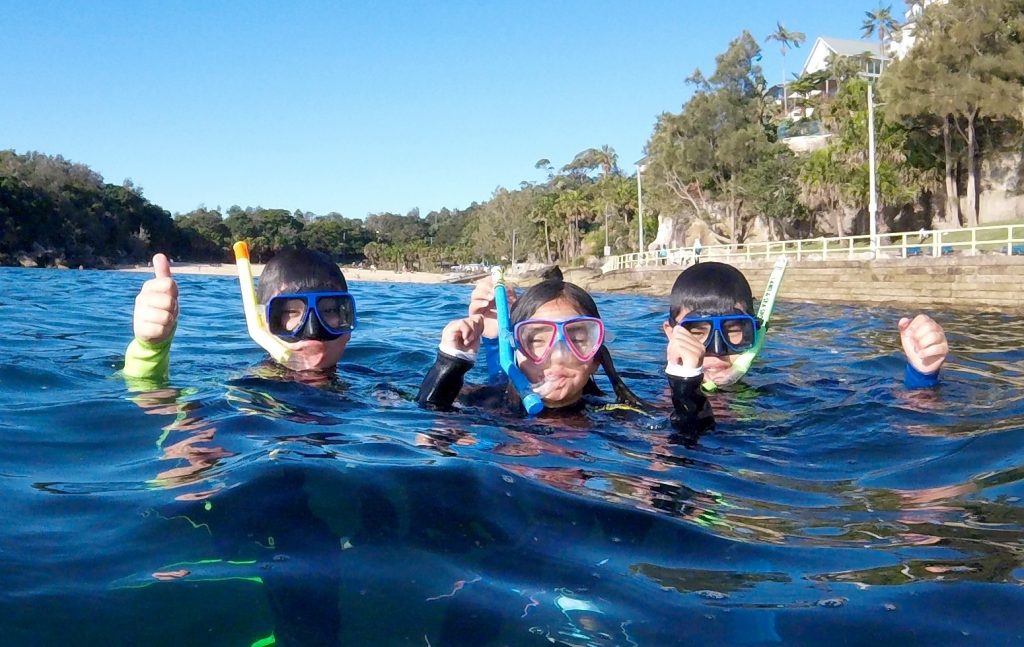 Kids having fun – Snorkel in beautiful Manly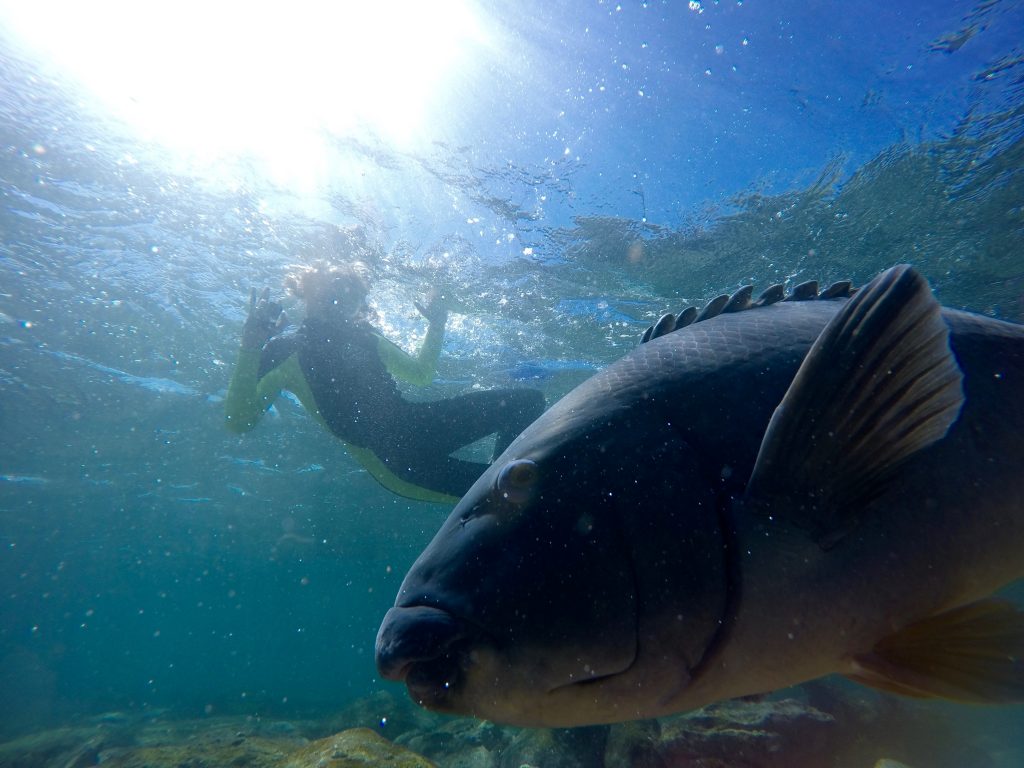 Snorkel in Beautiful Manly with the famous Blue Groper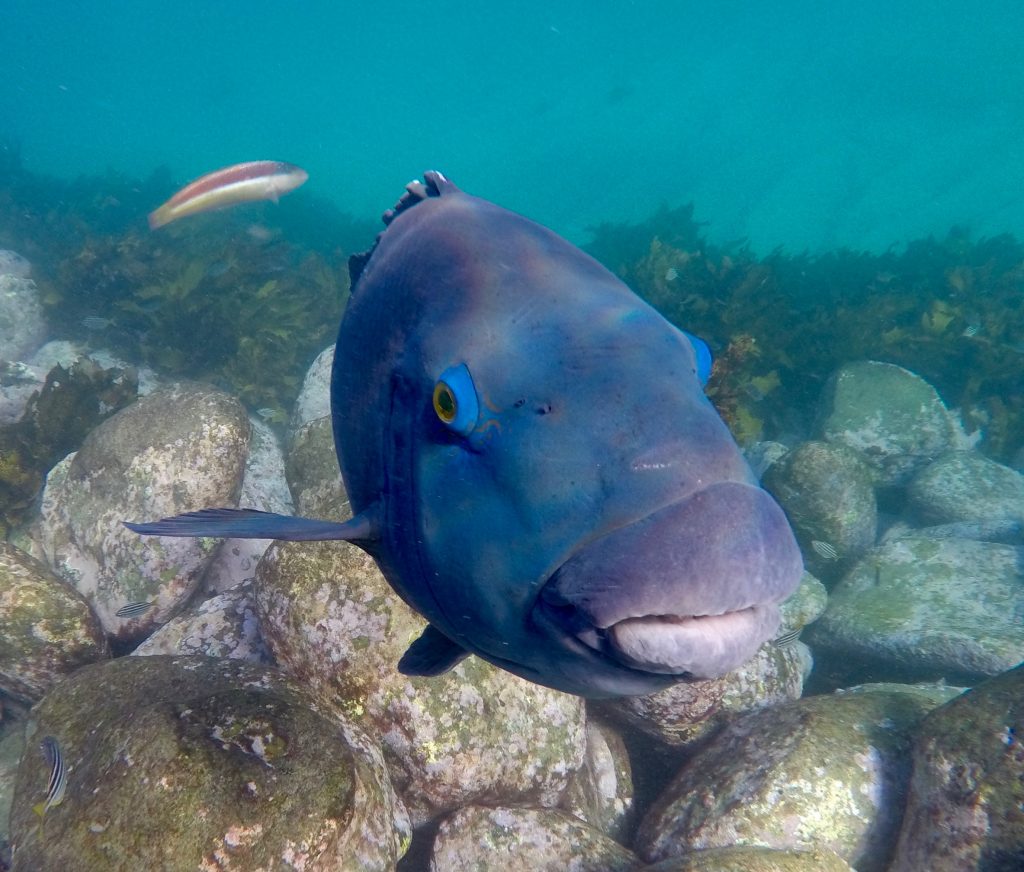 Trust in Blue Big Blue Groper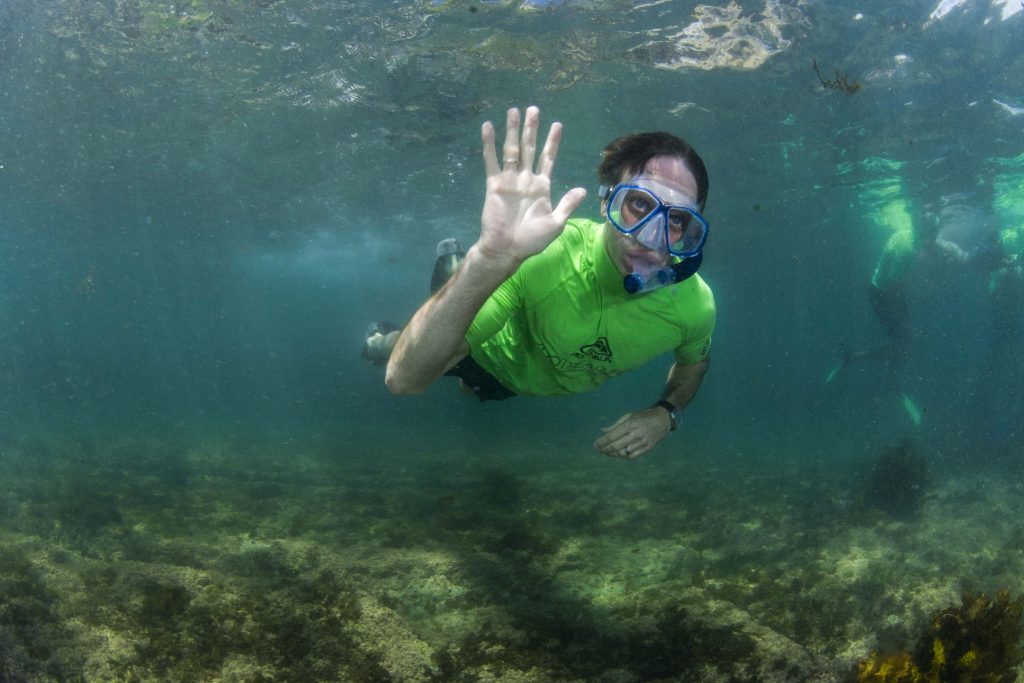 Even Tony Hawk Snorkels in beautiful Manly when in Sydney. Image courtesy of DNSW on tour with us in 2018
To tour or no to tour
If you want to snorkel in beautiful manly with us please get in touch. We have operated guided tours of the Manly area and Cabbage Tree Aquatic Reserve since 2010. I run a small local business with a team of fun and passionate guides who all love what they do. We have group Manly Snorkel Tours or private manly snorkel tours available.
Go on your own
If you're looking to get some gear to excite you to get out and explore more, then check out or snorkel shop if you want some snorkel gear or wetsuits. You can call us if you need any help info@ecotreasures.com.au
A day outside is always a good day
Enjoy your next underwater adventure. Hopefully you can snorkel in beautiful Manly and have a awesome time in the underwater world. We are lucky this beautiful area is in Sydney.
Damien
ECOTREASURES founder