Description
Engaging and Dynamic Educational School Programs
Snorkel, Paddle, and Learn with Our Expert Guides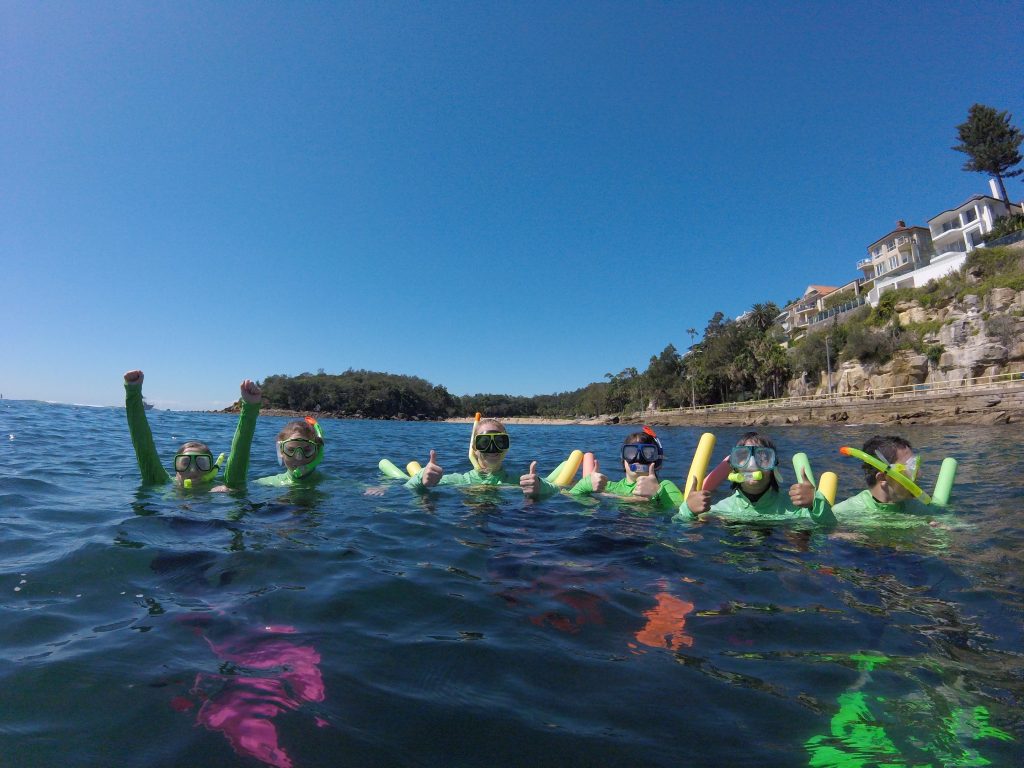 Educational Adventures Tailored for Schools
Our school educational programs are thoughtfully designed to support students in achieving their educational goals. We offer programs suitable for high school, primary, and university groups, with group sizes starting from just 6 people.
Teacher Testimonial: "Hornsby Girls High School had an amazing experience with ECOTREASURES. All abilities were professionally catered to, and the staff couldn't have been more engaging or helpful." – Jan, Hornsby Girls High School.
What Activities Do We Offer?
Manly Snorkel Adventure: Immerse Yourself in the Marvels of Cabbage Tree Bay Aquatic Reserve on an Advanced Eco Tourism Certified Snorkelling Tour. Guided by passionate local experts, students will discover native marine life, Sydney's culture, and heritage during a captivating headland nature walk. All necessary equipment is provided.
Location: Shelly Beach, Manly, Cabbage Tree Aquatic Reserve.
2. Paddle Board/Kayak Schools Program: Our Customised School Programs Offer an Exciting Recreational Experience.
Location: The Basin Campground, Ku-ring-gai Chase National Park.
3. Explore the Natural World with Ecotreasures' Guided Educational Bush walks/coastal walks: Embark on a Voyage of Discovery with Ecotreasures' Guided Educational Bushwalks. Our immersive experiences lead students on captivating explorations of Australia's diverse ecosystems. Led by knowledgeable guides, these walks offer unique insights into native flora, fauna, and the delicate environmental balance.
From lush rainforests to coastal pathways, our educational bushwalks provide enriching opportunities to connect with nature and deepen comprehension. Students will gain valuable insights into ecological sustainability, conservation, and the significance of safeguarding our natural legacy.
Program Duration: Snorkel and SUP programs range from a minimum of 1 hour (when enrolled in a 10-week term) to 1.5 hours, full days, and even overnight custom programs. Bushwalk minimum 2hrs.
Booking Process: Contact us at info@ecotreasures.com.au to discuss student learning outcomes and group sizes. Quotes are tailored based on duration and group size.
Suggested Units of Study:
PDHPE & PASS
Marine Studies
Geography
Duke of Ed Programs
Science
Join us in creating enriching educational experiences for your students. Dive into discovery with Ecotreasures!"
Directions
How to get there Catch the breathtaking Fantasea Palm Beach Ferries or water Taxi across Pittwater waterway from Palm Beach Wharf to the Basin Campground. Ferry timetable. The 1.5 hr L90 bus ride from Sydney CBD will drop you off directly at the Palm beach Wharf. If you are driving to Palm Beach there is free parking available on the street. You can also drive to West Head via West Head road and park at the top of the Basin Trail and walk in to the camp ground on a 2.5 km hike with a steep descent. Please always check NPWS website for updates and important information before entering the Park. The journey is part of the experience so embrace the adventure which ever way you decide to come to the Basin.