Description
Private Manly Snorkel Tour Experience
Explore Cabbage Tree Bay Aquatic Reserve with Assurance on Your Tailored Private Guided Manly Snorkel Adventure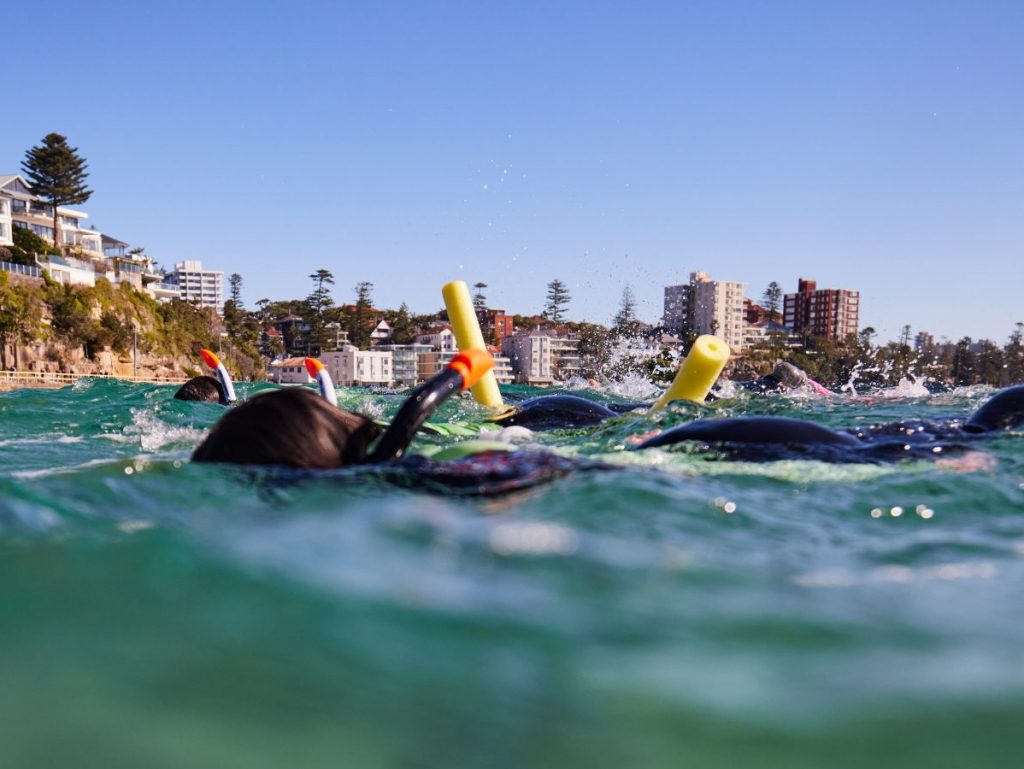 Kindly note that all private tour dates need to be confirmed with our office before proceeding with online booking and confirming a specific time and date
5 Stars on Trip Advisor 338 reviews
"Blue Gropers Everywhere May 2023"
Amazing views, lots of different fishes. I've fallen in love with the blue groper and I could took lots of photos of it. Our guide was really nice and gave us many useful information. Highly recommended.
"Extraordinary Experience May 2023"
Highly recommend this tour. In the walk you learn about the environmental protection and significant importance of these areas. While I have snorkelled and dived many times, I have never before witnessed the proliferation of marine life and species here. The protected Cabbage Tree Bay Aquatic Reserve is an incredible example of what can be done to protect our marine life. The equipment was high standard and our guide was excellent, both in and out of the water.
Tailored Private Manly Snorkel Tour: Dive into a Personalized Aquatic Journey
Indulge in a Personalized Manly Snorkel Expedition, Crafted Just for You by Our Enthusiastic Local Eco Guides. As You Navigate the Enchanting Cabbage Tree Bay Aquatic Reserve, Submerge into Sydney's Marine Realm and Immerse Yourself in its Culture and Heritage with an Informative Headland Nature Stroll. All Essential Snorkel Gear, from Masks and Snorkels to Flippers and Wetsuits, is Ready for Your Subaquatic Journey, Ensuring an Unforgettable Adventure
Uncover the Highlights of Your Private Manly Snorkel Expedition:
Experience a personalized snorkel tour tailored to your desires.
Explore the enchanting Cabbage Tree Bay Aquatic Reserve with a knowledgeable local eco guide.
Immerse yourself in Sydney's marine wonders and rich cultural heritage with a guided headland nature walk.
All snorkel gear, from masks and snorkels to flippers, wetsuits, and foam floating noodles, is thoughtfully provided.
Opt for extra water time upon request, or soak in the breathtaking views from headland lookouts.
Crafted to your group's preferences, enjoy a tailor-made experience.
Included in Your Private Manly Snorkel Adventure:
Engaging private guided snorkel tour led by an experienced and amiable local eco guide.
Customized private tour, meticulously designed to match your preferences.
Comprehensive snorkel gear package for your convenience.
Safety briefing and ocean safety instructions for a worry-free adventure.
Hands-on demonstrations on how to use snorkel gear.
Wetsuits and foam floating noodles for enhanced comfort and safety.
Free tour photos to capture and relive your memorable moments.
Binoculars provided for the headland walk.
The chance to explore Sydney's coastal wonders with an insightful local guide.
Location: Shelly Beach, Manly, Cabbage Tree Aquatic Reserve.
Duration: 2 hours
Private Manly Snorkel Tour Cost:
2 Persons: $400
3 Persons: $510
4 Persons: $630
5 Persons: $700
6 Persons: $770
7 Persons: $810
8 Persons: $850
Private Manly Snorkel Tour Description:
Ecotreasures' private Manly snorkel tour is your tailored adventure. With your personal guide, confidently explore the Cabbage Tree Bay Aquatic Reserve at your own pace. Whether you're cautious or adventurous in the water, our experts adjust to your snorkelling experience. The tour provides insights into the local area, water safety, snorkelling tips, and native wildlife. Throughout the year, Sydney's marine wildlife changes with varying water temperatures and "seasons of the sea." Your knowledgeable guide helps you spot Sydney's renowned Blue Groper and other species in the no-take Cabbage Tree Bay Aquatic Reserve. Hotel pick-up and drop-off options are available.
How to Book:
Kindly confirm private tour dates with our office before booking online. Email info@ecotreasures.com.au or call 0415121648 to discuss preferred times and dates.
What to Bring:
Swimming gear
Towel
Hat
Drink bottle
Sunscreen
Comfortable walking shoes
Snorkelling Tips: Watch our short Snorkelling Tips video with Damien if you're new to snorkelling or seeking fresh insights.
Valuables: Change rooms are available at Shelly Beach, and you can secure your belongings in our bus while snorkelling.
Getting to Shelly Beach Manly:
To reach Shelly Beach from Manly Wharf, you can take a pleasant 20-30 minute walk through Manly village along the beachfront. Alternatively, a quick 5-minute taxi ride from Manly Wharf is another convenient option. For those driving, head to the car park located at the end of Bower Street. If you require any additional assistance, don't hesitate to reach out to our friendly staff via email at info@ecotreasures.com.au or by calling 0415 121 648. We're here to help!
Tour Meeting Location:
Head towards the car park exit, which is the sole car park in the area. Please note that it's not near the cafe. As you walk up the road towards the car park, follow the cars to the exit. Our meeting point is located at the car park exit on the cliff side, where you'll also find a designated disabled parking spot. Look for the green dot on the map for reference.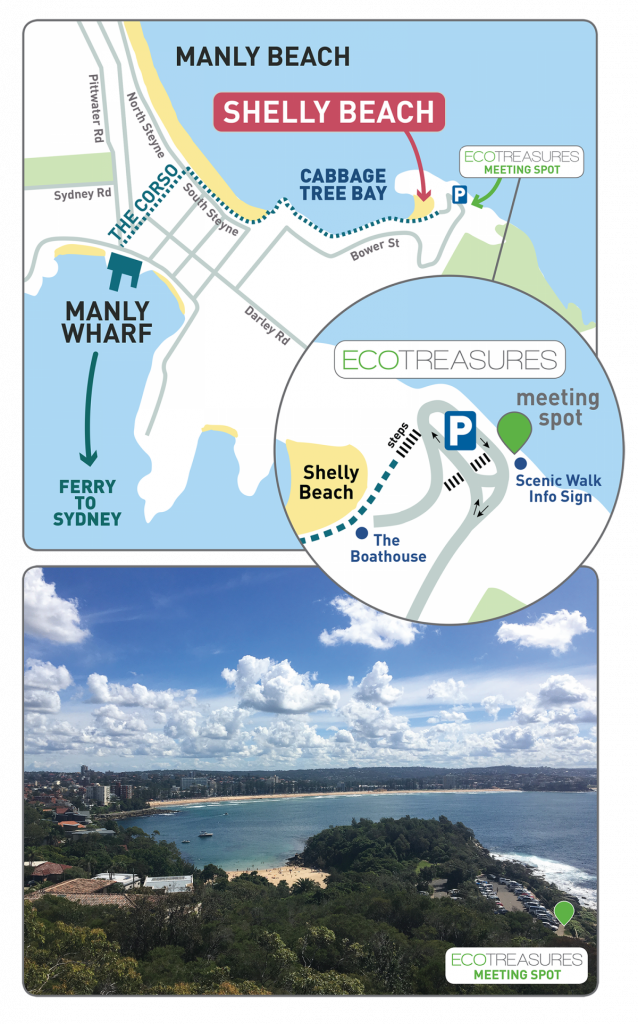 Contact Us:
For additional assistance, feel free to reach out 24 hours before the tour via email at info@ecotreasures.com.au or call 0415 121 648.
Additional Information:
Swimming Proficiency: Participants must be able to swim 150 meters unassisted, float, and tread water. Swim tests are conducted at the start of private tours with more than 2 people. Non-swimmers can participate in private tours with a maximum of 2 people in life jackets.
Cabbage Tree Bay Aquatic Reserve: A Protected Haven Located at Shelly Beach, Sydney, the Cabbage Tree Bay Aquatic Reserve is just minutes from world-famous Manly Beach. The sheltered surroundings of rocky reefs, sea grass meadows, and sandy bottoms provide a home to a variety of marine species. Designated as a "NO TAKE" marine zone since 2002, fishing and species collection are strictly prohibited, making this reserve a thriving conservation model. Explore the diverse range of species within the Cabbage Tree Aquatic Reserve, a mere 30-minute journey from Sydney's heart.
Discover Manly's Charms: Manly boasts a vibrant coastal village atmosphere and enticing nature walk trails. Sydney Harbour National Park's website lists all the local walks in the area. For tips or travel advice while visiting Manly, reach out to our office at info@ecotreasures.com.au or call 0415 121 648. With our local expertise, we're here to help you plan and book other Sydney tours. We're committed to sharing minimal impact travel tips and insights about Climate Change.
The wildlife of the Cabbage Tree Bay Aquatic Reserve
Disclaimer – Wildlife is wildlife, we can not guarantee any sighting of wildlife. The magic of nature is that you never know what you may see. 
Blue Groper – Near threatened species
Grey Nurse Shark – Threatened species
Port Jackson Shark (June – Nov)
Spotted Wobbegong
Eagle Ray
Green Moray
Weedy Sea Dragons – Near threatened species
Maori Wrasse
Crimson-bended Wrasse
Giant cuttle fish (Feb – Aug)
Dusky Whaler Shark (Feb – June)
Green Turtle
+ manly more