Description
Manly Snorkelling Tour
Cabbage Tree Bay Aquatic Reserve – Shelly beach, Manly
Are you ready to explore Manly's underwater world? Join one of our local expert marine guides on the Manly Snorkelling Tour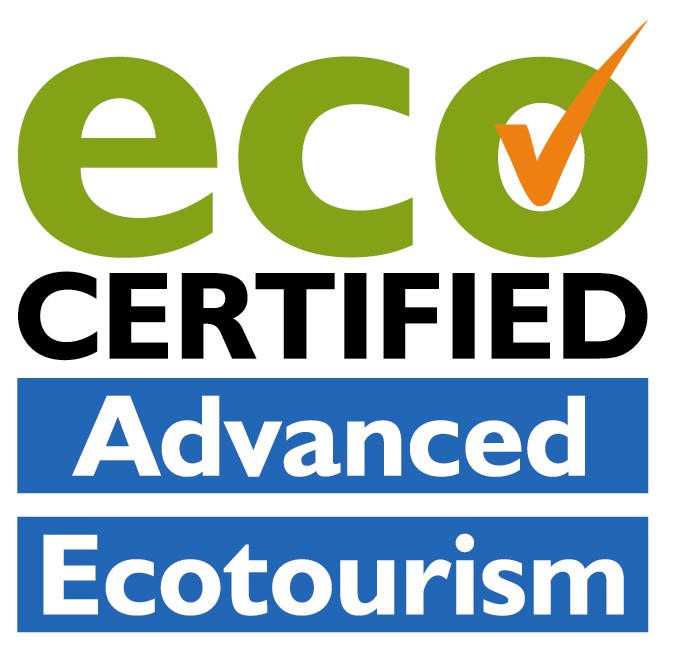 Tour inclusions
Interpretive guided tour with an experienced local Manly Snorkelling tour guide
Advanced Eco Tourism Certified nature experience
1 hour guided Manly Snorkelling Tour of Cabbage Tree Bay Aquatic Reserve
All equipment and wetsuits included on the Manly Snorkelling Tour
Safety brief and snorkel tips provided on the Manly Snorkelling Tour (10mins)
Headland nature walk with great views of the Northern Beaches (30mins) – Approx 800m with easy gradient
Tour photos
Free 24hr cancellation policy
Tour Highlights
Experience Australia coastal culture with local marine expert
Learn about the diverse wildlife of the Cabbage Tree Aquatic Reserve
Small group tour maximum 8 people
Choice of masks wetsuits included
Search for the endangered species like famous Blue Groper's in their natural habitat
Snorkel while you try to identify the 200 + other fish species, invertebrates and algae's of the area
Discover the Australian coastal culture of Manly from your local guide through stories
Visit famous Manly Beach and Shelly Beach
Whale spotting on Headland Walk from May November/Coastal birds all year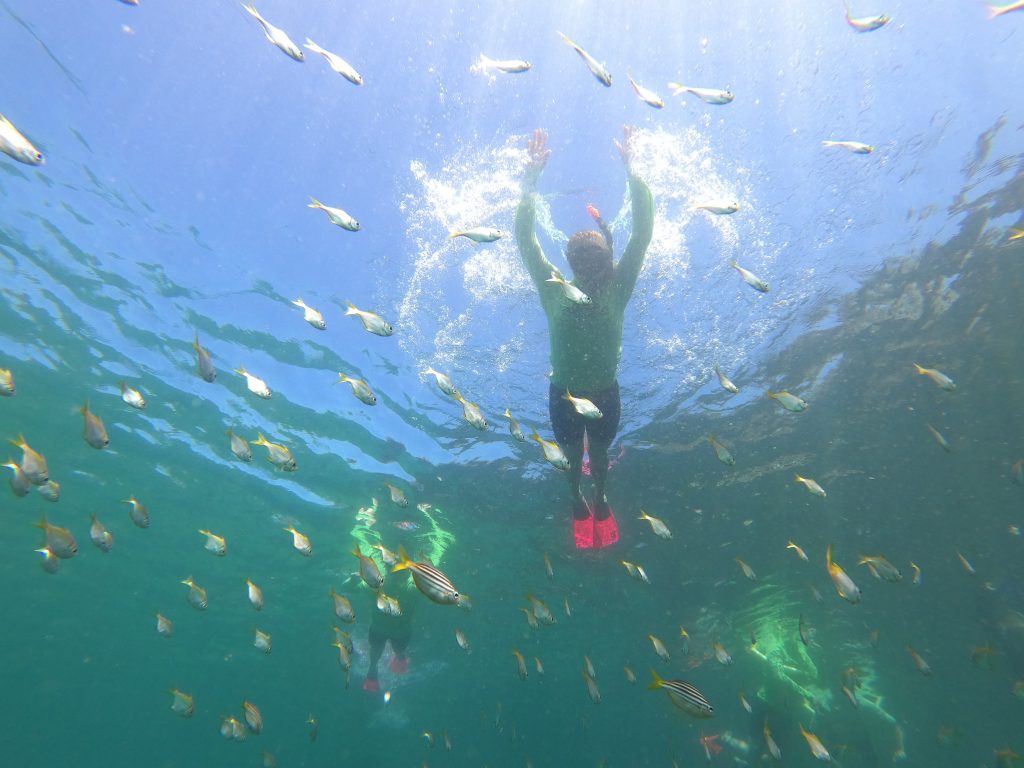 Duration: 2 hour Manly Snorkel Tour
Group Tour Pricing from 
Adult $79pp
Child $69pp
Family $250 (2 adults, 2 kids(8-14) $250
Customer Testimonial 
Memorable and exciting snorkelling Trip 
"It was our first attempt with snorkelling and my wife was a bit scared. But when we met Nerissa [our guide and instructor], all the worries faded away. She first took us for the walking tour and explained a few interesting facts about native animals. Then came the most exciting part of the trip. We learned how to use gears, how to swim and walk with the fins on, how to breathe with the mask on. First few minutes we were a bit uncertain but then we followed the instructions and it was easy and slowly we started enjoying. It was almost an hour of snorkelling. Nerissa helped us to spot various fish. We enjoyed the trip and probably found a new hobby. Thanks to EcoTreasures." Oct 2019
Tour Description
Join Ecotreasures on the small group Advanced Eco Tourism Certified Manly Snorkelling Tour of the Cabbage Tree Bay (NO TAKE) Aquatic Reserve. First your experienced and passionate local expert Sydney Snorkel tour guide will give you a great idea of what native marine life to keep your eye out for as well as educate you about native wildlife, Australian environments, heritage and the culture of Sydney on your headland nature walk.
Then you can cool off by snorkelling in the calm, clear waters off Shelly Beach, Manly on Sydney's Northern beaches. See Australia's diverse marine wildlife in their natural habitat within the sea grass meadows, sandy bottom, and rocky reefs of protected Cabbage Tree Bay at Aquatic Reserve. Easy introduction lessons are available for beginners and foam floating noodles are provided for extra safety. TheManly Snorkelling Tour is suitable for beginner and experienced snorkelers!
ALL PARTICIPANTS MUST BE ABLE TO SWIM 50 METERS FREESTYLE UN-ASSISTED, FLOAT AND TREAD WATER TO JOIN THE GROUP TOUR. SWIM TEST CONDUCTED AT THE START OF TOUR. BE SAFE AND KNOW YOUR LIMITS IN THE WATER. PLEASE DO NOT SIGN UP TO GROUP TOUR IF YOU CAN'T SWIM. BOOK PRIVATE TOUR IF YOUR NOT A STRONG SWIMMER
Private Tour Check availability
How to book:
Click on the live calendar above or the availability tab on the left side of this page to check group tour available dates and to make your booking online. You will receive a confirmation email with meeting directions after you payment has been processed. To book a Private Snorkel Tour click on link to reserve your spot.  If you have any questions please email info@ecotreasures.com.au or call 0415 121 648
What to bring
Comfortable walking shoes for headland walk and flip flops/sandals to wear for walk from car park to beach and leave on beach when we snorkel
Hat
Sunscreen
Swimming gear/swim suit
Refillable drink bottle
Towel
If you have never snorkelled before or need some fresh tips, please watch our Snorkelling tips short video with Damien before the tour.
Your valuables will be secure and lock in our vehicle when we go in the water
Extras
Additional 1 hour rental of snorkel gear and wetsuit $15pp
You can stay in the water for an additional 1 hour from 12pm-1pm after the morning snorkel tour. This option is only suitable for confident snorkeler as you will be self guided and un supervised.
How to get to Shelly Beach Manly:
From Manly Wharf to Shelly Beach is a walk 20-30mins first through Manly village along beach front. You can also take a 5 min taxi ride from Manly Wharf.
Manly Ferry and Manly fast ferry timetable 
If driving go to car park at end of Bower st. If you need any extra help please feel free to ask our friendly staff via email info@ecotreasures.com.au or call 0415 121 648
Extra information:
ALL PARTICIPANTS MUST BE ABLE TO SWIM 50 METERS FREESTYLE UN-ASSISTED, FLOAT AND TREAD WATER TO JOIN THE TOUR. SWIM TEST CONDUCTED AT THE START OF TOUR.
After you book please go to the Ecotreasures home page to view the other Sydney Eco Tours we offer.
The location:
The Cabbage Tree Bay Aquatic Reserve is located at Shelly Beach, Sydney which is only minutes from world famous Manly Beach. Shelly Beach aspect faces West which protects the location from a lot of swell on the East Coast of Australia.  The sheltered habitats of rocky reefs, sea grass meadows and sandy bottom are home to a range of resident and transient marine species. Map from Fisheries
The Cabbage Tree Bay Aquatic Reserve is a "NO TAKE" marine zone which was established in 2002.  No fishing of any kind, or taking any species including shells is permitted. Fines apply for any breaches of these laws. The protection of the area has been a very successful conservation management strategy. We can now all enjoy seeing the range of species in the Cabbage Tree Aquatic Reserve located only 30mins from Sydney city.
Manly also has a vibrant coastal village atmosphere and nature walk trails. Sydney Harbour National Park website lists all the local walks in the area. For any tips or travel advice while visiting Manly please email our office info@ecotreasures.com.au or call 0415 121 648. With our local expertise we can help you plan and book other tours in Sydney for you.
Minimal impact travel tips and information about Climate Change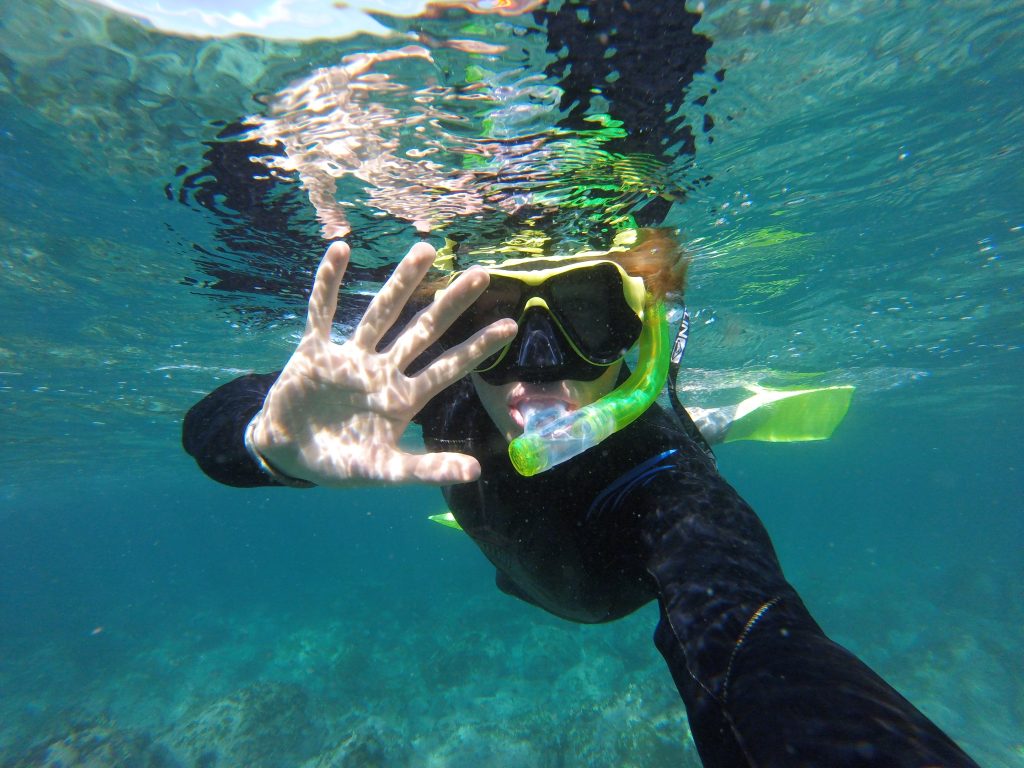 The wildlife of the Cabbage Tree Bay Aquatic Reserve
Disclaimer – Wildlife is wildlife, we can not guarantee any sighting of wildlife. The magic of nature is that you never know what you may see. 
Blue Groper – Near threatened species
Grey Nurse Shark – Threatened species
Port Jackson Shark (June – Nov)
Spotted Wobbegong
Eagle Ray
Green Moray
Weedy Sea Dragons – Near threatened species
Maori Wrasse
Crimson-bended Wrasse
Giant cuttle fish (Feb – Aug)
Dusky Whaler Shark (Feb – June)
Green Turtle
+ manly more
Go to our Cabbage Tree Bay Aquatic Reserve Marine Identification page for more information
Available Dates
Public Group Tours run everyday at 10am-12pm and 2pm-4pm with minimum 4 and maximum 10 people. Customers can join a group tour with other people if they have less than 4 people when they book (excluding black out dates 24th Dec, 25th Dec,26th Dec, 31st Dec, Jan 1st, Jan 26th). Booking deadline is 6pm the evening before a tour. Private individual and group tours available by request. Private tour option is always available if booking numbers are low for group tours. We accept PayPal, MasterCard, Visa and direct debit transfers for payment. Please choose an available date and follow the instructions to make your online booking and payment. Any questions please feel free to email info@ecotreasures.com.au or call 0415 121 648
Directions
Shelly beach is a 20-minute walk from Manly Wharf. Catch the Manly ferry or Manly Fast Ferry or Sydney Fast Ferry from Circular Quay, Sydney City to Manly Wharf. Public ferry ride takes 30mins Fast ferry 18mins (also has a bar). Public ferry cost one way Adult $7.20, Child $3.60. Paid parking available at Shelly Beach. You will be given your tour guides phone number to call on the day if you have any troubles finding the location. The Manly visitor information centre is located at Manly Wharf. The staff are very friendly and helpful if you need extra assistance.