Description
2.5 hr Manly Snorkel and Headland Walk Eco Tour Experience
Ecotreasures Snorkel Tours: Dive into Nature's Wonders, One Adventure at a Time!
Book Now or Buy Gift Certificate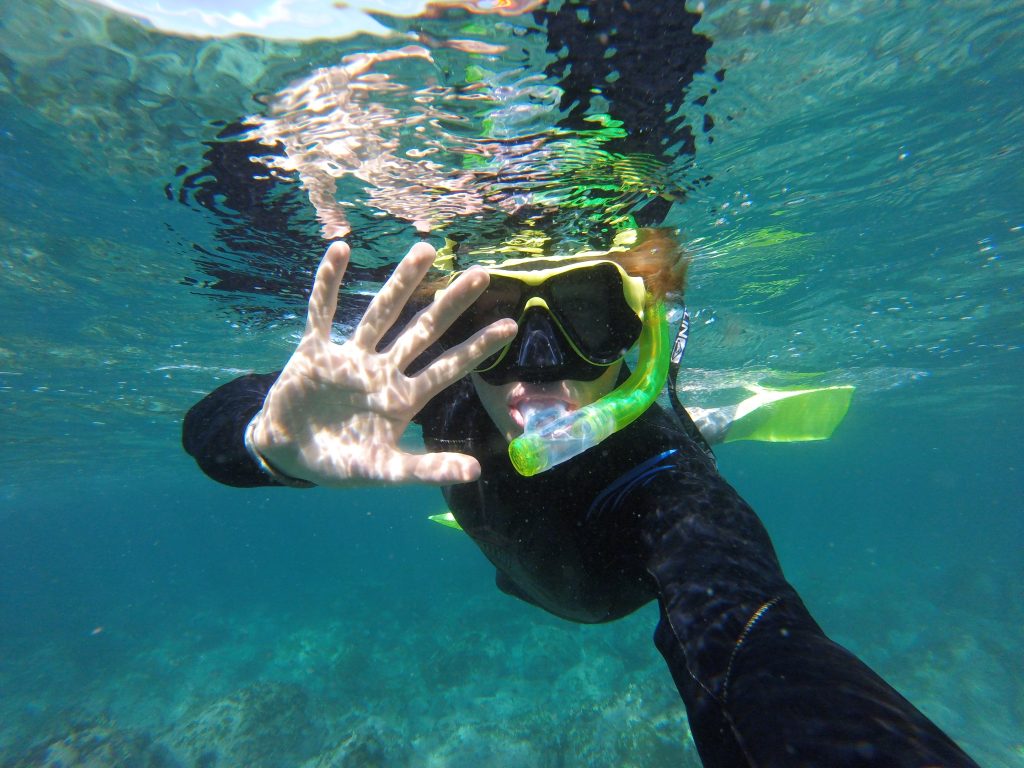 5 Stars on Trip Advisor 333 reviews
"Blue Gropers Everywhere May 2023"
Amazing views, lots of different fishes. I've fallen in love with the blue groper and I could took lots of photos of it. Our guide was really nice and gave us many useful information. Highly recommended.
"Extraordinary Experience May 2023"
Highly recommend this tour. In the walk you learn about the environmental protection and significant importance of these areas. While I have snorkelled and dived many times, I have never before witnessed the proliferation of marine life and species here. The protected Cabbage Tree Bay Aquatic Reserve is an incredible example of what can be done to protect our marine life. The equipment was high standard and our guide was excellent, both in and out of the water.  
Book Now or Buy Gift Certificate
Your Manly Snorkel Tour Experience: Dive into Adventure!
Included Experiences:
Guided Exploration: Embark on an interpretive guided tour led by a seasoned local Manly Snorkelling guide.
Eco-Certified Encounter: Immerse yourself in an Advanced Eco Tourism Certified nature experience, prioritizing the preservation of our aquatic treasures.
Safety Assured: Your guide's expertise in water safety and first aid ensures a secure and enjoyable exploration of the aquatic reserve.
Guided Snorkelling: Engage in a 1-hour guided Manly Snorkelling Tour, delving into the wonders of the Cabbage Tree Bay Aquatic Reserve.
Equipment Provided: All equipment and wetsuits are thoughtfully provided for your convenience and comfort during the Manly Snorkelling Tour.
Expert Briefing: Begin with a concise safety briefing and valuable snorkel tips, setting the tone for a smooth and enjoyable adventure (approximately 10 minutes).
Scenic Nature Walk: Take in captivating Northern Beaches views during a scenic headland nature walk (approximately 30 minutes). The 800m loop trail features an easy gradient.
Memories Captured: Capture the moments that matter with complimentary tour photos to cherish forever.
Fellowship and Connections: Interact, share, and bond with fellow guests, making your journey even more memorable.
Highlighted Experiences:
Coastal Culture Dive: Immerse yourself in Australia's coastal culture through the insights of a marine expert, enhancing your understanding of the marine ecosystem.
Biodiversity Discovery: Learn about the rich diversity of wildlife thriving within the Cabbage Tree Aquatic Reserve, adding depth to your snorkelling experience.
Intimate Group Setting: Engage in an intimate and immersive small group tour, with a maximum of 8 participants for personalized attention.
Equipment Choice: Select from a range of masks and wetsuits thoughtfully provided for your comfort and preferences.
Species Hunt: Seek out species like the renowned Blue Groper, observing them in their natural habitat.
Marine Life Identification: Identify over 200 fish species, invertebrates, and vibrant algae as you snorkel, deepening your connection with the underwater world.
Cultural Insights: Unearth the coastal culture of Manly through captivating stories shared by your local guide, adding cultural context to your adventure.
Scenic Beach Visits: Visit the iconic Manly Beach and picturesque Shelly Beach, enhancing your Sydney experience.
Whale Spotting and Avian Delights: From May to November, embark on a Headland Walk for whale spotting, or enjoy observing coastal birds year-round.
Join us on this extraordinary journey, and let the captivating waters of Manly enrich your senses and memories.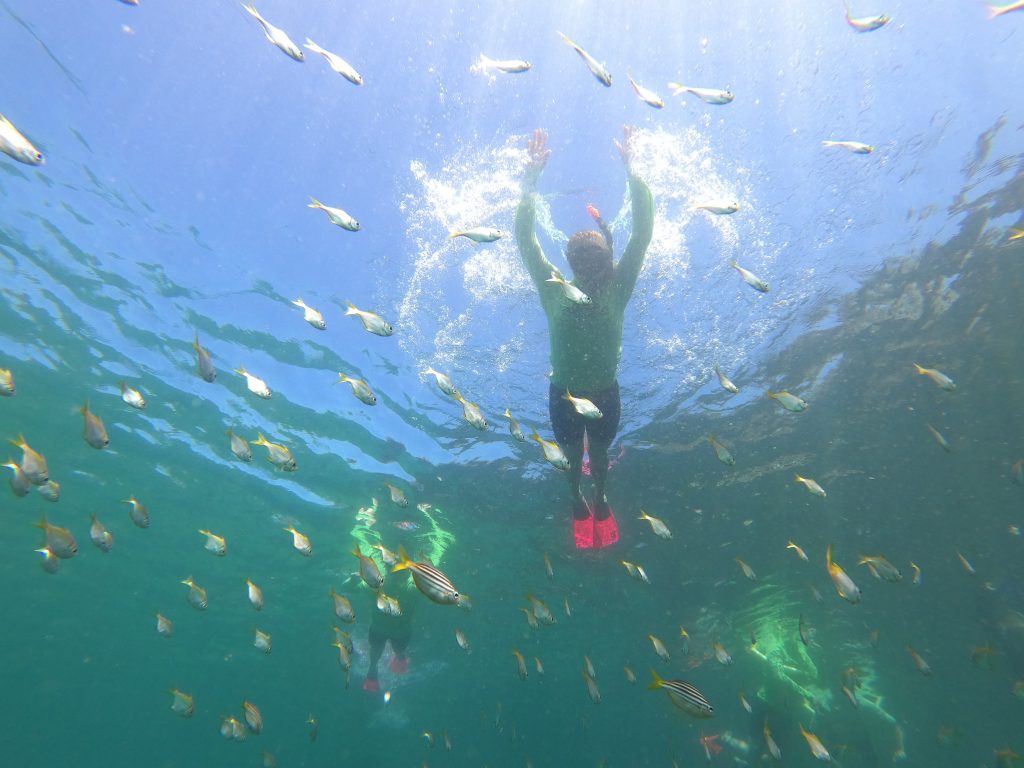 Group Experience Pricing 
Flexi ticket $109pp (24hr cancellation policy) 
Saver ticket $89pp (no cancellation or changes +$30pp for any date changes)
Duration: 2.5 hour Manly Snorkel Tour
Book Now or Buy Gift Certificate
Experience Description
Embark on an Unforgettable Sydney Adventure with Ecotreasures' Advanced Eco Tourism Certified Small Group Manly Snorkelling Experience at Cabbage Tree Bay (NO TAKE) Aquatic Reserve. Dive into the wonders of Sydney's marine world alongside our passionate local expert guide. Gain insights into native marine life, Australian ecosystems, heritage, and Sydney's cultural richness during an enlightening headland nature walk. Immerse yourself in the crystal-clear waters of Shelly Beach, Manly, on the picturesque Northern beaches of Sydney. Witness Australia's diverse marine wildlife thriving within the sea grass meadows, sandy seafloor, and rocky reefs of the protected Cabbage Tree Bay at Aquatic Reserve. Beginners can enjoy easy introduction lessons, and additional safety is provided with foam floating noodles. Ideal for both novices and seasoned snorkelers, the Manly Snorkelling Tour promises an exceptional underwater adventure!
Please note that all participants are required to demonstrate their ability to swim 150 meters freestyle unassisted and comfortably float as well as tread water. A swim test will be administered at the commencement of the group tour to ensure everyone's safety. Prioritize your well-being and be aware of your water capabilities. We kindly ask individuals who are unable to swim not to enroll in the group tour. If you are not a confident swimmer, we recommend considering our private tour option. Check the availability of private tours for a personalized experience.
How to book
Click on the link above and booking online. You will receive a confirmation email after you payment has been processed. To book a
Private Snorkel Tour
click on link to reserve your spot.  If you have any questions please email info@ecotreasures.com.au or call 0415 121 648
What to Bring:
Footwear: Wear comfortable walking shoes for the headland walk, and bring flip flops/sandals to wear from the car park to the beach. Leave them on the beach while snorkeling.
Sun Protection: Don't forget your hat and sunscreen to shield yourself from the sun's rays.
Swimming Attire: Pack your swimwear to fully enjoy the snorkelling experience.
Stay Hydrated: Carry a refillable drink bottle to stay hydrated throughout the tour.
Towel: Bring a towel to dry off after your snorkelling adventure.
Snorkelling Tips: If you're new to snorkelling or need a refresher, watch our short Snorkelling Tips video with Damien before the tour.
Valuables: Your valuables will be kept secure and locked in our vehicle while we're in the water.
Getting to Shelly Beach Manly:
To reach Shelly Beach from Manly Wharf, you can take a pleasant 20-30 minute walk through Manly village along the beachfront. Alternatively, a quick 5-minute taxi ride from Manly Wharf is another convenient option. For those driving, head to the car park located at the end of Bower Street. If you require any additional assistance, don't hesitate to reach out to our friendly staff via email at info@ecotreasures.com.au or by calling 0415 121 648. We're here to help!
Tour Meeting Location:
Head towards the car park exit, which is the sole car park in the area. Please note that it's not near the cafe. As you walk up the road towards the car park, follow the cars to the exit. Our meeting point is located at the car park exit on the cliff side, where you'll also find a designated disabled parking spot. Look for the green dot on the map for reference.

Discover the Protected Waters of Cabbage Tree Bay Aquatic Reserve
Nestled at Shelly Beach in Sydney, just minutes away from the renowned Manly Beach, lies the Cabbage Tree Bay Aquatic Reserve. With its Western-facing aspect, Shelly Beach is shielded from much of the East Coast swell, providing a tranquil environment for exploration. This unique marine haven encompasses diverse habitats, from rocky reefs to sea grass meadows and sandy bottoms, providing sanctuary for an array of marine life both resident and migratory.
Designated as a "NO TAKE" marine zone since 2002, the Cabbage Tree Bay Aquatic Reserve ensures the conservation of its underwater treasures. It's a place where fishing and species collection, including shells, are strictly prohibited to safeguard this delicate ecosystem. Stringent laws and fines deter any violations, resulting in a thriving conservation success story. Now, all of us can revel in the sight of these various species within the Cabbage Tree Aquatic Reserve, a mere 30-minute journey from Sydney city.
Manly, with its vibrant coastal village ambiance, offers not only this aquatic wonder but also enchanting nature walk trails. For an array of local walks in the area, explore the Sydney Harbour National Park website. Seeking tips or travel advice while in Manly? Feel free to contact our office at info@ecotreasures.com.au or call 0415 121 648. With our local expertise, we can help you plan and arrange other captivating tours within Sydney. We're also here to share minimal impact travel tips and insights about Climate Change.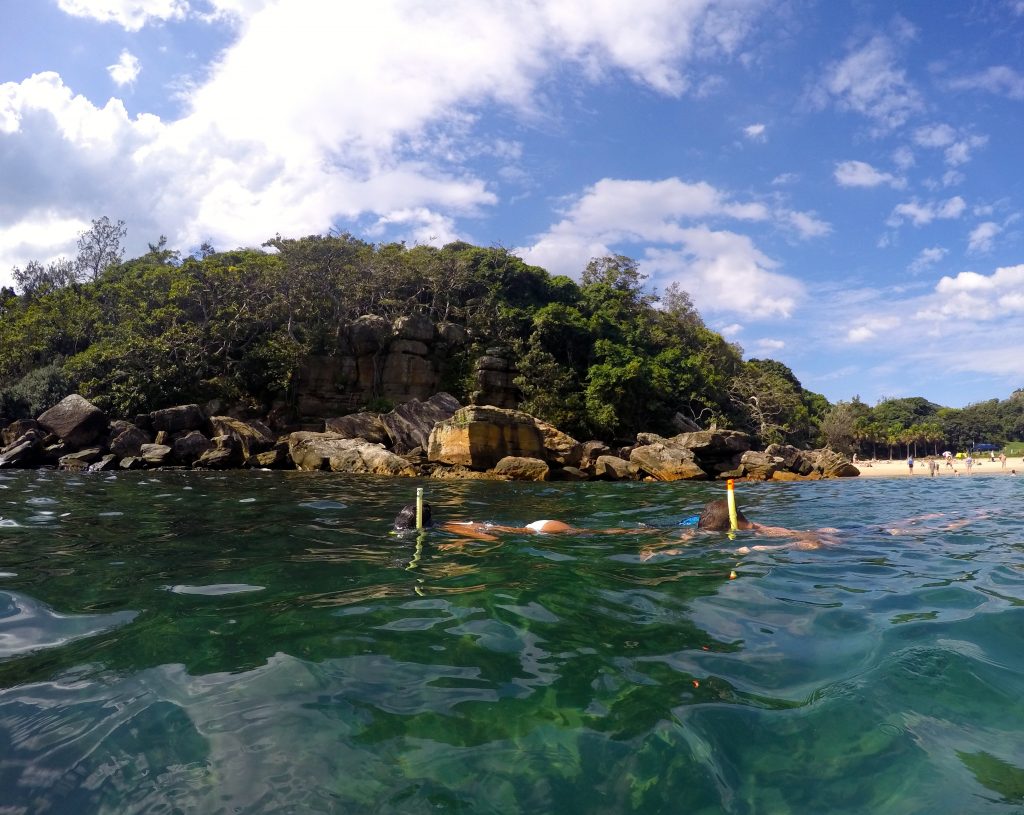 The wildlife of the Cabbage Tree Bay Aquatic Reserve
Disclaimer – Wildlife is wildlife, we can not guarantee any sighting of wildlife. The magic of nature is that you never know what you may see. 
Blue Groper – Near threatened species
Grey Nurse Shark – Threatened species
Port Jackson Shark (June – Nov)
Spotted Wobbegong
Eagle Ray
Green Moray
Weedy Sea Dragons – Near threatened species
Maori Wrasse
Crimson-bended Wrasse
Giant cuttle fish (Feb – Aug)
Dusky Whaler Shark (Feb – June)
Green Turtle
+ manly more
Go to our Cabbage Tree Bay Aquatic Reserve Marine Identification page for more information