Sydney Snorkeling Tours
Explore the underwater EcoTreasures of Sydney with us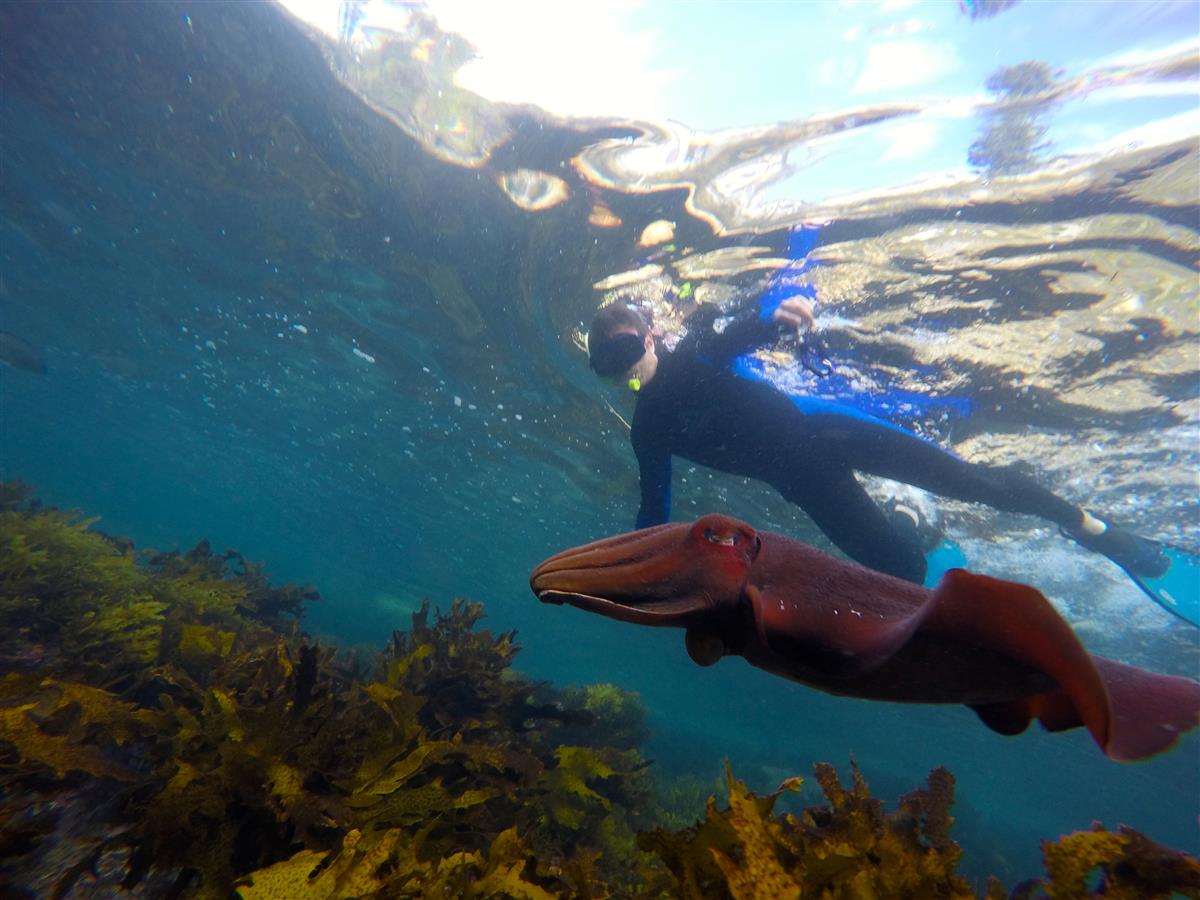 (Giant Cuttlefish June 2015, Cabbage Tree Bay Aquatic Reserve, Manly)
EcoTreasures provides the best Sydney Snorkeling Tours in town. Our Advanced Eco Tourism certified  Sydney Snorkeling Tours will educate you about the local marine species and safety while we get you up close and personal with the underwater world wildlife of Sydney. The Manly Snorkeling Tour has become a bucket list must do nature experience when visiting Manly Beach and Sydney.  Our other unique Sydney snorkel tour experience is the Sydney Sea Horses Snorkeling Tour located at the Basin estuary, Ku-ring-gai Chase National Park located in the Northern area of Sydney.
Please click on the Snorkel Tour links for more tour information. If you would like to book you spot on tour please click on an availability date on either of the booking calendars below. If you would like to speak to someone please call 0415 121 648 or email info@ecotreasures.com.au
Sydney Snorkeling Tours with EcoTreasures
Join EcoTreasures on the  Advanced Eco Tourism Certified Manly Snorkeling Tour with your experienced and passionate guide. Your local expert Sydney Snorkel tour guide will give you a great idea of what native marine life to keep your eye out for as well as educated you about native wildlife, Australian environment, heritage and culture of Sydney on your headland nature walk.
Then cool off by snorkelling in the calm, clear waters off Shelly Beach, Manly on Sydney's Northern beaches. See Australia's diverse marine wildlife in their natural habitat within the sea grass meadows, sandy bottom and rocky reefs of protected Cabbage Tree Bay at Aquatic Reserve. Easy introduction lessons available for beginners. Manly Snorkeling Tour suitable for beginner and experienced snorkelers.
Manly Snorkeling Tour Availability Calendar

EcoTreasures Advanced Eco Tourism Certified Sydney Sea Horses Snorkeling Tour at The Basin campground will immerses you in the dynamic estuary habitats of sea grass beds, rocky area, sandy bottom and mud flats. Estuaries are the nurseries of the ocean. The shelter of the sea grass provides protection from predators, a place to breed and food and habitat for a range of species.
Explore the Basin campground estuary (West Head, Pittwater) with your experienced Sydney snorkel tour guide. Search for the famous local sea horses and other marine species including Cuttle fish, Brim, Stingaree, Drummer, Leather Jackets, Sea Stars and tropical fish (during warm water times Dec-May) and many more species in a safe and fun environment.
Sydney Sea Horses Snorkeling Tour Availability Calendar

How to book
Please select one of EcoTreasures Sydney Snorkeling Tours date and time on the availability calendar. Please process your online payment to reserve your spot. If you would like more information please email info@ecotreasures.com.au or call 0415 121 648
Please go to the EcoTreasures home page to view the other Sydney Eco Tours we offer