Description
Sydney's Northern Beaches Paddle Boarding Lessons and Tours
Explore the Tranquil Beauty of Sydney's Northern Beaches with Our Private Stand Up Paddle Board (SUP) Lessons and Tours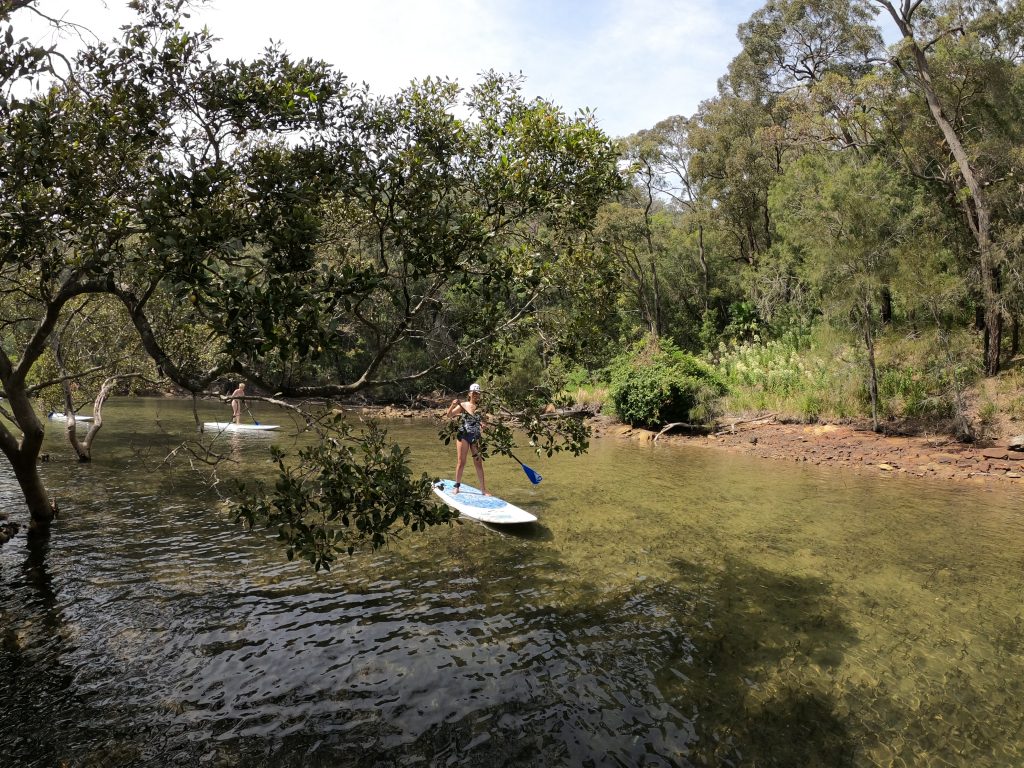 Book Now and Gift Certificates
All private tour dates must be confirmed with our office before booking
At Ecotreasures, we welcome you to discover the serene allure of Sydney's Northern Beaches through our personalized private stand up paddle board (SUP) lessons and tours. Regardless of whether you're a newcomer or an experienced paddler, our skilled instructors will accompany you on a journey that seamlessly combines waterborne adventure, skill refinement, and a deep appreciation for the breathtaking coastal environment.
Why Choose Ecotreasures for Your Private SUP Experience?
Experienced Guides: Our instructors, certified under ASI Level 2, aren't just proficient in SUP; they're also fervent about imparting their knowledge. With safety as a top priority, they'll arm you with the necessary skills to navigate waters with confidence.
Tailored Learning: We firmly believe in personalized learning experiences. Our private SUP lessons are tailored to your skill level, allowing you to advance at your own pace. Whether you're a novice aiming to find your balance or an enthusiast looking to finesse your technique, our lessons can be adjusted to meet your needs.
Breathtaking and Safe Location: Embark on an exploration of Sydney's Northern Beaches, navigating captivating waterways while mastering the art of stand up paddle boarding from the Basin Campground Ku-ring-gai Chase National Park. Our lessons provide a unique opportunity to harmonize with nature and savor the coastal landscape.
Private SUP Lesson Inclusions:
A 60-minute immersive lesson and tour
High-quality epoxy paddle board, paddle, and leash provided
Guided by experienced ASI Level 2 paddle board instructor
Pre-lesson safety briefing and equipment overview
Photo opportunities to capture your memorable moments
Risk assessment training to ensure your safety
Refinement of skills and techniques under expert guidance
Highlights of Your Stand Up Paddle Board Lesson:
Gain confidence in standing up on your paddle board
Adapt your skills to diverse water conditions
Master turning, stopping, controlling, and mounting/dismounting
Interpret weather conditions and forecasts
Practice different paddling stances and strokes for varying conditions
Catered to All Skill Levels:
Our lessons cater to both beginners and seasoned paddlers, including ASI SUP Wise lessons designed for children and adults alike.
Private SUP Lesson Locations: The Basin Campground
Lesson Cost:
Book Now and Gift Certificates
Costs range from $120 for an individual to $500 for a group of eight.
Booking Your Private SUP Lesson:
To secure your exclusive stand up paddle board lesson, reach out to us at info@ecotreasures.com.au or call 0415 121 648. Our tentative dates require confirmation, so contact us to identify the perfect date for your SUP adventure.
Necessities to Bring:
Don't forget to pack swimwear, a water bottle, and a towel for a fulfilling lesson.
Extend Your Experience: Paddle Board Hire and Overnight Camping
For those craving more, explore our paddle board hire options or unwind with an overnight camping experience at the Basin Campground in Ku-ring-gai Chase National Park.
Embrace Serenity on the Water: Reserve Your Private Lesson Today
Indulge in the soothing cadence of water as you master the art of stand up paddle boarding. Join us for a personalized lesson that seamlessly integrates nature, skill enhancement, and relaxation. Book now and etch enduring memories on the tranquil waters of Sydney's Northern Beaches.
For further inquiries, please contact us at info@ecotreasures.com.au or call 0415 121 648.
We also provide paddle board hire and overnight camping experience at the Basin campground Ku-rin-gai Chase National Park if you are looking for a getaway in.