Description
Deluxe Camping Experience at The Basin Campground, Ku-ring-gai
Discover Deluxe Camping Bliss at The Basin Campground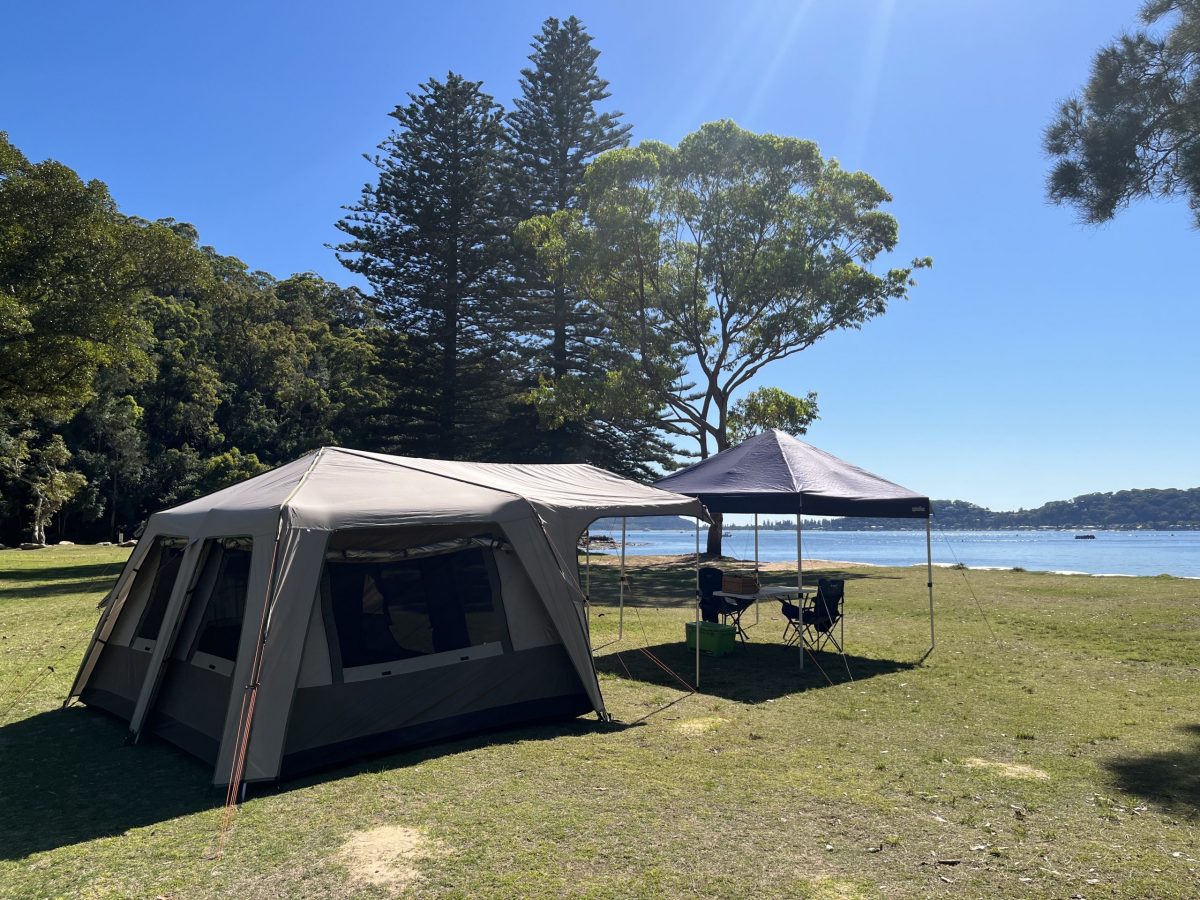 Experience Ultimate Camping Comfort with Ecotreasures Camping Experience
Elevate your camping experience to unparalleled heights with Ecotreasures' Deluxe Camping at The Basin Campground. We've thought of every detail to ensure your stay is not only comfortable but also truly memorable. Immerse yourself in the wonders of Ku-ring-gai Chase National Park while we take care of the setup and logistics. Here's what our all-inclusive package brings to the table:
Your Inclusions:
Spacious, comfortable tents that accommodate up to 5 people
Hassle-free campsite setup and take-down service, allowing you to simply arrive and enjoy
Plush self-inflating sleeping mats with a cover sheet per person for a restful sleep
A cozy camping chair for each person
Essential camping table for your convenience
Protective gazebo shelter to unwind in shade or rain
Thoughtfully provided plates, bowls, cutlery, and cups for your meals
BBQ cooking utensils to indulge in outdoor culinary adventures
Solar lights and a torch to keep your nights illuminated
A trusty Esky to keep your refreshments cool
Access to NPWS flat top BBQs for delicious outdoor cooking
An array of equipment to ensure your comfort and convenience
Costs for an Unforgettable Experience:
2 nights: $475
3 nights: $575
4 nights: $650
5 nights: $750
6 nights: $800
7 nights: $850
Please note NPWS Basin campground fee is not included in our service. You must book your Basin campsite directly with NPWS via this link
Important check in and check out information for Christmas/NYE period:
Please note check in and check out on the following dates is not available. Please check in before or after the listed dates.
Dates: 24th Dec, 25th Dec, 26th Dec, 31st Dec and 1st Jan
Special Mid-Week 4-Night Deal Experience tranquility at its best from Monday to Friday with our exclusive $500 Mid-Week Deal. A serene escape, away from the weekend rush (not available during summer school holidays).
Additional Information:
Accommodates up to 5 people per tent (max 6 recommended)
BYO sleeping bags and pillow (or purchase our sleeping bags by request)
NPWS campsite fees not included (book separately)
Long-term stays over 1 week enjoy special rates (call to inquire)
Additional people above 5 per tent: $50/person for 2 nights+
Check out our paddle board hire for campers, with an exclusive discount $60 per day min 2 days.
NPWS check-in: 2pm, check-out: 10am
Fire pit booking and ice available on-site
No car access to the Basin; ferry or water taxi from Palm Beach
Experience Convenience, Embrace Nature:
Let Ecotreasures redefine your camping journey. Our Deluxe Camping Experience is designed for those who want to enjoy the beauty of nature without the hassles. Whether you're a first-time camper or a seasoned adventurer, our service is tailored to enhance your experience.
To book or inquire, click the link or reach out to us at 0415121648 Remember, your tent booking doesn't guarantee an NPWS campsite spot; reserve your campsite directly with NPWS and ensure our tent availability aligns with your plans.
Reconnect with nature, create lasting memories, and unwind like never before with Ecotreasures' Deluxe Camping Experience.
Discover a new level of camping luxury with Ecotreasures' premium camping products. We've meticulously curated a selection of essentials to transform your outdoor adventures into unforgettable experiences. From serene nights under the stars to hassle-free meal prep, we've got you covered.
The Ecotreasures Camping Products Advantage:
Luxurious Accommodation Solutions: Indulge in spacious tents designed to accommodate up to 5 individuals. Our tents offer generous space and comfort, ensuring a peaceful night's sleep.
Effortless Setup and Takedown: Say goodbye to the complexities of camping setup. With our expert team handling the complete setup and takedown, your only task is to arrive and relish the experience.
Restful Sleep Guaranteed: Experience comfort like never before with our self-inflating sleeping mats, complemented by cover sheets for a rejuvenating slumber.
Relax in Style: Our camping chairs are the perfect companions for unwinding after a day of adventure. Enjoy comfort while soaking in nature's beauty.
Convenience in Every Bite: Seamlessly prepare your meals with our camping table and BBQ cooking utensils. Embrace outdoor culinary experiences without compromise.
Stay Sheltered: Protect yourself from the elements with our gazebo shelter. Whether it's sunshine or rain, you can enjoy the outdoors with peace of mind.
Dine with Elegance: Savor your meals using our thoughtfully provided plates, bowls, cutlery, and cups. Elevate your camping meals to a delightful experience.
Light Up the Night: Our solar lights and torch ensure your evenings are brilliantly illuminated, allowing you to fully embrace the night's tranquility.
Chill in Style: Keep your refreshments cool with our trusty Esky, ensuring you stay refreshed throughout your camping adventure.
BBQ Delights Await: Access NPWS flat top BBQs for an authentic outdoor cooking experience, enhancing your connection with the natural world.
Elevate Your Camping Experience:
Immerse yourself in nature without compromising comfort and convenience. Our camping products are designed to provide an unparalleled camping experience, whether you're a seasoned camper or a first-timer.
Explore our array of options for different durations, accommodating various needs:
2 to 7-Night Options: Choose from a range of durations, each tailored to your desired camping experience.
Special Mid-Week 4-Night Deal: Unwind and escape the weekend hustle with our exclusive mid-week deal, offering tranquility from Monday to Friday.
Your Path to Unforgettable Adventures:
Ecotreasures Camping Products ensure you have the tools to create lasting memories in stunning natural settings. Whether you're camping at The Basin Campground in Ku-ring-gai Chase National Park our products enhance your camping journey.
Explore the website for more details, or get in touch at 0415121648to book or receive more information. Embrace the beauty of nature while enjoying the comforts of home with Ecotreasures Camping Products.
Your Gateway to Serenity Awaits!
Directions
How to get there: There is no public car access to the Basin campground in the protected Ku-ring-gai Chase National Park. You can come across the water or walk. Please read information below. Email or call if you need any help. From Palm Beach: Catch the breathtaking ferry across Pittwater to the Basin campground, West Head with Fantasea Palm Beach Ferry service or Palm Beach Water Taxi from Palm Beach Wharf to the Basin Campground. Please click on Ferry timetable link to view departure time. The ferry ride from Palm Beach to the Basin take 20mins. Please note Opal cards do not work on the Palm Beach- Basin ferry service. By Bus from Sydney: The 1.5 hour public L90 bus ride from Wynyard, Sydney city will drop you off directly at the Palm beach Wharf. Opal card have a Sunday reduce rate for cheap travel. Driving to Palm Beach or West Head: If you are driving to Palm Beach there is free parking available on the street. Always check street signs. You can also drive to West Head via West Head road and park at the top of the Basin Trail and walk in to the Basin campground on a 2.75 km hike with a steep descent. Please always check NPWS website for updates and important information before entering the Park. The journey is part of the experience so embrace the adventure which ever way you decide to come to the Basin.